Details for Wood Buildings
Before you customize your wood building, review these different series of buildings to see which series of building best suits your storage needs.
These features are standard on all models: treated notched runners are the base of each building which provides a strong foundation for a quality building. Treated 2x6 joists positioned 16 inches on center and secured into the notches of the runners, 3/4 inch tongue and groove flooring, double top plate, diamond kickplate, D lock handles, and deluxe sized vents on each end. Standard doors include a 4' single door on all 8 wide buildings (upgradable to 6' double doors) and 6' double wood doors on 10, 12, & 14 wide buildings.
ESSENTIAL

– Essential series buildings can be considered the entry level building. Vertical style LP Smartsiding WITHOUT radiant heat barrier inside. When selecting this series, every option is available when considering options for your building.





CHOICE

– Choice series buildings also use vertical paneling for its exterior walls, but they are pressed with LP's Techshield which is a radiant heat barrier product. This helps decrease temperatures and has patented technology to help prevent against moisture build up. This comes standard on the roof and walls.





PREMIUM

– This is our top tier building. This series is noticeably different than the other series of buildings due to the horizontal lap siding. This is installed on top of the standard vertical paneling. This building also comes standard with the Techshield/radiant heat barrier. When selecting this series of building, being able to have your barn door painted an accent color is included. This series of building is most needed when trying to get HOA approval where horizontal siding is required.





LOFTED BUILDING

– After selecting your series of building, you then need to determine if you need a lofted building or a utility building. Every lofted building is built using 6' studs for the walls (option to upgrade to 7'). Each building includes 8 total feet of loft. You can determine the placement of loft when customizing your building. For example, if you want 4' of loft on each side, 2' on one side and 6' on the other, 8' on a single side, or if only 4' is all you need. Every lofted building's roof design is the barn style roofs. The peak height is around 11'.





UTILITY BUILDING

– Every utility building (10, 12, 14 wide) comes standard with 7' wall studs with a peak roof height of about 11'. Utility buildings are the perfect option if you're just needing floorspace! This style of building has the "A frame" style roof. A lot of HOA communities require this type of roof structure as they do not tend to approve the barn style roofs!
Wood Buildings Packages
When selecting options, consider selecting a package which combines options into a bulk price. View the graphic to see what comes with each package!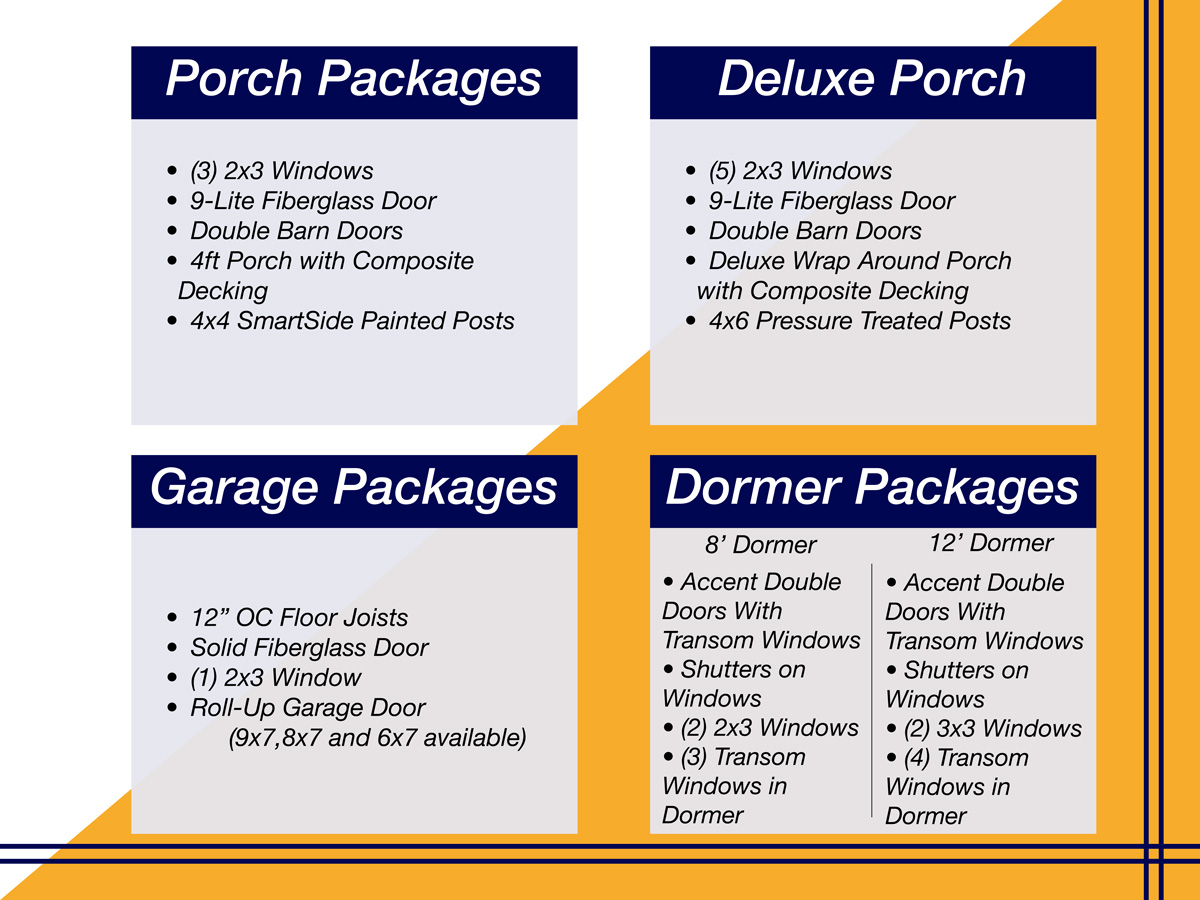 Porches
There are 4 styles of porches available:
End porch – End porch is when the porch in built on the end of the building.
Side porch – Side porch is when the porch is built into the side of the building where the side meets the end (in a corner).
Middle porch – This is when the porch is built into the middle of one of the sides.
Deluxe Porch – The deluxe porch combines an end and side porch. It provides the most porch space and comes with 5 windows if selecting a package.
Garage Packages
We offer two types of garage doors. A roll up style garage door which rolls up into itself directly above the header or a Sectional garage door which is a traditional garage door which is installed on tracks. When considering garage doors instead of the standard double doors, consider selecting a package which also adds a standard fiberglass door for easy entry into your building, a window, and upgrades the floor by strengthening it more by installing the joists at 12" on center.
Tiny Homes
Our sheds are purposed as storage buildings, if you are looking to turn a storage shed into a "tiny home", they will not meet international building code and rated as a "home" if you plan on getting permits. With that being said, we have customers who convert their buildings into spaces other than simple storage such as a home office, man cave/she-shed, daycare, craft rooms, wood working, gyms, or playhouses.